Mobile
News Matter Smart Home Standards Guide: Devices, Support, and More
First the specs, then the launches, then CES 2023—it's been a busy few months for Matter, the smart home connectivity standard. You can't fill your home with Matter-ready devices just yet, but there are some interesting options in development. Here are some of the most practical, exotic, and doable gear coming (or coming soon).
Some parts of matter already exist
If you're looking to start over with your smart home this year and focus on Matter-driven universal compatibility, you've got a few puzzle pieces in place for you. Let's start little by little, starting with your phone.
Your phone, whether iOS or Android, can scan a QR code or read the Bluetooth signal of a Matter-certified device.Most platforms support adding devices to the controller via an Android app, but only Apple's HomeKit and Samsung's SmartThings Support for iOS device registration. Amazon says it plans to add iOS enrollment for Thread-based devices this spring, but already supports Wi-Fi-connected devices.
Your controllers, apps, and ecosystems that collect some or all of your Matter devices and let you read or manipulate them may also be ready. Open source systems such as Amazon's Alexa, Google's Nest and Home devices and apps, Apple's HomeKit, Samsung's SmartThings, and Home Assistant already support Matter devices.
Matter devices can communicate via Bluetooth, Wi-Fi or Thread. If you're looking at Thread devices, some of your existing equipment may already be available as a Thread "border router" or range extender. These devices already have Thread built in:
Nest Hub, 2nd Gen, and Max
Nest Wifi and Wifi Pro routers
Apple TV 4K (2nd generation and later)
Apple HomePod mini
Nanoleaf Shapes, Elements and Lines panel
Eero mesh routers, Wi-Fi 6 and newer
Amazon plans to add Thread border router functionality to its fourth-generation Echo devices in spring 2023.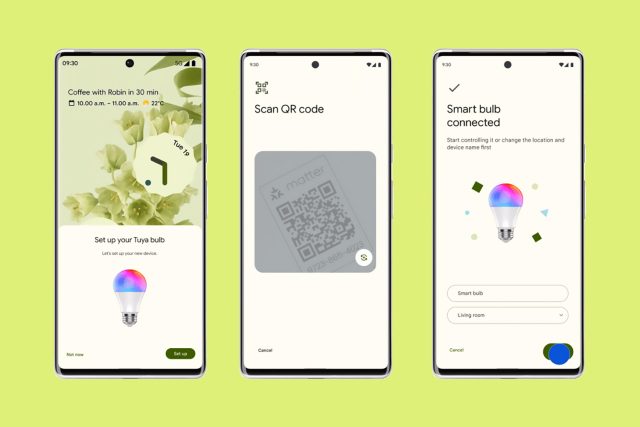 Actually using Matter right now is very unstable
Technically, the daring among us can scan some precious Matter devices and add them to a Matter-enabled controller with a Matter-enabled phone. You can, but probably shouldn't: it's not a very smooth process at the moment, and you can easily lose equipment or routines from your existing setup.
Kevin Tofel, writing for the Stacey on IoT blog, tried adding the Eve Energy Smart Plug and Eve Motion Sensor to the Google Nest Hub in mid-December, using the Google Home app on the iPhone 12 and Google Pixel 7 running the latest OS version. He eventually got to the point where two devices — previously only HomeKit — could be accessed through Apple and Google's smart home systems.
To make this happen, however, Tofel had to print or save a new Matter QR code for his Eve plugs and sensors. He then tried adding a plug through Eve and the Apple Home app, but they wouldn't accept it. The Google Home app did add the Eve sensor, and the Apple Home and Eve could add it later. Tofel had to factory reset the plug before adding it to all of his apps. And he had to re-add the automation he had set up in the Eve app because it was no longer connecting to known devices.
You're better off waiting for a device designed with substance in mind from the ground up. If the manufacturers stick to their announcements, the wait should only be a few months.